12 Calgary parks with outdoor fitness equipment
Posted by Justin Havre on Saturday, March 11, 2017 at 9:44 AM
By Justin Havre / March 11, 2017
Comment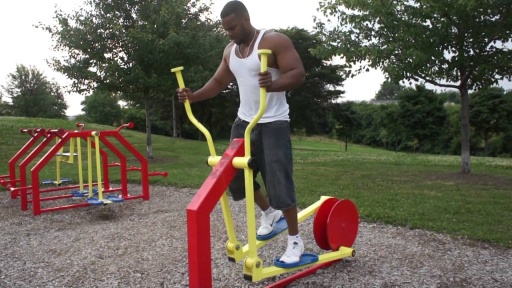 You don't often think of doing lat pulls or sweating on an elliptical trainer at the local playground down the street. But with the outdoor fitness equipment craze sweeping North American, you can indeed do that.
There are actually 20 million square-metres of fitness spaces outdoors in China. Ladders, balance bars, stations to do sit-ups. In Spain, the hub of the outdoor fitness equipment/playground craze, the work out stations are painted in attractive primary colours. There is even an outdoor fitness centre in London's famous Hyde Park and in an effort to get seniors moving it's been nicknamed "Pensioner's Playground."
Spring is on its way and it will soon be time to get outdoors. The City of Calgary has 12 parks where adult-sized fitness equipment has been installed – there are actually more locations throughout the city, like at the University of Calgary for instance.
The idea is catching on because these equipment stations are like playgrounds for adults, perfect for the person who can't afford to work out at the local fitness centre or doesn't have a facility close by or wants to get outside rather than work in their home gym. The City, by installing these stations at local parts, is removing barriers to fitness and is making it easy for Calgarians to get off the couch and give fitness a try.
Bear in mind, these are public parks and you might have to wait in line for your turn – just like you used to line up behind the swings to have your turn at recess. People will be watching you unless you wear a head lamp and visit at 3:00 am. But it's an awesome way to meet new people.
Exercise is the best way to maintain good health, physically, psychologically and emotionally.
Each park in Calgary has a variety of equipment so you can get a good circuit going. Some have more machines that others and you might want to drive around and check them all out.
Here's the other thing – with a couple of exceptions, these parks are mostly in the north end of the city. Hopefully more will pop up in Calgary's south.
If you find a park you like and some of the equipment is not in working condition or seems unsafe, the City of Calgary would like you to call 311 right away.
Fitness equipment locations
Applewood Park Community Association, 899 Applewood Dr. S.E.
*equipment maintained by Community Association
Equipment includes:
Double reverse butterfly
Two-person extension / curl
Combo lat pull-down / arms press
Three-person air walker
Two-person side by side cross-country skier
Recumbent stationary bicycle
Elliptical
Rowing machine
Bike
Arbour Lake, 555 Arbour Lake Dr. N.W.
Equipment includes:
Lateral pull down
Air walker
Vertical press
Seated chest press
Seated leg press
Sit-up station
Elliptical
Cardio walker
Rowing machine
Hip flexor
Coral Springs Park, 172 Coral Keys Dr. N.E.
Equipment includes:
Vault bar
Chin-up bars
Parallel bars
Sit-up station
Horizontal ladder
Push-up station
Deerfoot Business Centre, 6632 8 St. N.E.
Permanent slackline posts are available at this location as part of a pilot initiative.
Equipment includes:
Vertical climbing ladder
Muscle builder climber
Horizontal ladder
Sit-up station
Vault bar
Jump touch
Step up
Parallel bars
Leg lifts
Balance bar
Chin-up bar
Dover - Greater Forest Lawn Seniors Society, 3425 26 Ave. S.E.
Equipment includes:
Stair Climber
Pendulum Air Walker
Air Walker
Rowing Machine
Chest Press
Lat Pull-down
Leg Curl/Leg Extension
Leg Press
Butterfly Machine
Roller Fit Pendulum
Dip Station
Horizontal Bars
Tai Chi Spinners
Edgemont Ravines, 20 Edgebyne Cres. N.W.
Equipment includes:
Sit-up station
Chin-up bar
Horizontal ladder
Rings
Edworthy Park, 4075 Bowness Rd. N.W.
East side of river, just off pathway
*equipment maintained by Parks Foundation Calgary
Equipment includes:
Bike fix-it station
Sit-up station
Stretch station
Twister
Elliptical
Chest Press
Pull-up bars
Dip bars
Leg press
Lat pull-down
Grant MacEwan Elementary School, 180 Falshire Dr. N.E.
Equipment includes:
Horizontal ladder
Balance beam
Chin up bars
Sit up station
Elevated balance beam
Parallel bars
Push up bars
The Hampton's School, 10370 Hamptons Blvd. N.W.
Equipment includes:
Half knee bends
Bench curl
Log hop
Leg stretch
Sit and reach
Body curl
Vault bar
Achilles stretch
Push-up station
Chin-up bar
Knee lift
Hawkwood Park, 95 Hawkwood Hill N.W.
Equipment includes:
Balance beam
Horizontal ladder
Standing jump
Push-up station
Vault bar
Chin-up bar
Parallel bars
Sit-up station
Louise Riley Library, 1928 14 Ave. N.W.
*equipment maintained by Community Association
Equipment includes:
Various equipment
Quarry Park, 138 Quarry Dr. S.E.
*equipment maintained by community developer
Equipment includes:
Various equipment
University Research Park, 3725 36 St. N.W.
Equipment includes:
Chin up bars
Touch jump post
Leg lifts
Parallel bars
Horizontal ladder
Sit up station
Step up station
Vertical climbing ladder
Vault bar