5 Places in Calgary to Go For Good Pho
Posted by Justin Havre on Monday, January 7, 2019 at 10:07 AM
By Justin Havre / January 7, 2019
Comment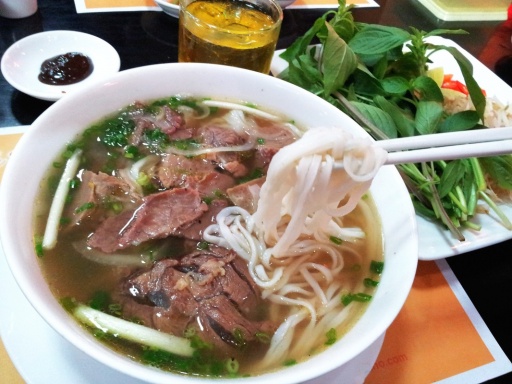 When the snow flies there's nothing like a steaming bowl of fragrant pho from one of Calgary's fine Vietnamese noodle houses. Pho, which is actually pronounced "fuh", is basically rice noodles swimming in a chicken or beef broth. Always satisfying but never the same. Different restaurants like to prepare it in slightly different ways.
Good pho is clear broth. It should never be dark or even cloudy. It should be a harmonious blend of flavours. There should be plenty of options from beef flank to tendon or tripe or rare beef with a perfect balance of luxurious white rice noodles in broth so hot it will steam up your glasses.
Every good pho comes with a variety of toppings. A plate brimming with fresh bean sprouts, springs of mint or basil and wedges of lime.
To eat pho like a pro, use chopsticks and the spoon all at the same time.
These are 5 top picks for pho in Calgary as chosen by Avenue Magazine.
A Brief History of Pho
The first known references to pho date back to the late 1800s. This is a key period during which the French were colonizing areas of North Vietnam. Historians believe that pho is a primary example of "fusion" cuisine, in which two cultures result in an exciting new dish.
Certainly the iconic noodle soup combines elements of the Vietnamese tradition of aromatic broth and rice noodles, along with those of the classic French beef stew, "pot au feu." In fact, "feu" is believed to be the origin of the name "pho."
Street vendors made pho something of a national dish starting in the 1920s. But later food shortages in Vietnam meant that rice was less available for rice noodle soups. Once the restrictions lifted, chefs had access to more diverse ingredients, which further refined the now-classic dish. Pho chefs brought these new traditions with them as they began emigrating around the world in the 1970s.
Pho Binh Minh
This Vietnamese favourite has been ladling up good pho for many years at 4710 – 17 Ave SE in Forest Lawn. The must-order item on the menu is the Binh Minh Special. It features six kinds of beef, including beef balls which are always kind of a mystery. The broth is very aromatic and the owners are very generous with the fresh toppings and are careful to throw in a few chili peppers, too.
Pho Dau Bo
Down the street at 4909 17 Ave SE in Forest Lawn is Pho Dau Bo located in the Little Siagon Towne Square plaza. The menu offers the obligatory chicken pho or beef pho but if you're willing to sweat it out go super-spicy and try the beef satay pho. Tender beef and broth guaranteed to make you sweat and cause your nose to run.
Pho Kim
Moving to 1511 Centre B Street NW, Pho Kim is right at home in this Crescent Heights neighbourhood. Parking could be a little better but despite the challenge or the brief walk from your spot on the street, you'll enjoy the very quick service. You're virtually guaranteed to find a table. Be adventurous and maybe forgo your nice safe chicken pho and order up the pho tai nam sach. Don't worry – you'll find it on the menu. Just point to it. It's rare beef, beef flank and tripe (don't research, just order. It's tender, it's chewy and oh so tasty.
Pho Pasteur Saigon Vietnamese Restaurant
This lovely little spot for pho is nestled in the heart of China Town. It is a bit small and rustic but highly recommended. The suggested dish for pho-lovers here is the No. 1 pho dac biet. The broth is rich and the six types of beef is a delectable combination.
Song Huong
Zooming back over to the east side of Calgary, Song Huong is way over by Elliston Park at 1704 – 61 St SE. It's small and old-school as they take cash only. Apparently, it has the best bun bo hue in the city. What is that you say? It's a bit spicy, a little bit sour with some sweet undertones and salty. A treat for the senses! Lemongrass broth and paste made from fermented shrimp further tease the palate and the pho aren't as thin as traditional noodles in regular pho.
Saigon Bistro
Not all great Vietnamese noodle houses are downtown or in Forest Lawn. Saigon Bistro in Southland Crossing at Macleod Trail and Southland Drive has great service and excellent pho as well. A house favourite is Swimming Rama. Chicken in a wonderfully rich coconut sauce served atop freshly steamed spinach. It's one of those dishes that makes you go " Yuuummm" right to the last bite. Served with a side of coconut rice, it's guaranteed to cause severe cravings for more.