A New Park Will Welcome Visitors Next to the East Village and Victoria Park Neighbourhoods
Posted by Justin Havre on Friday, July 4, 2014 at 9:35 AM
By Justin Havre / July 4, 2014
Comment
A new public park is going to be built close to the Stampede grounds along the Elbow River. ENMAX Corporation and the Calgary Stampede are partnering together to bring this project to life.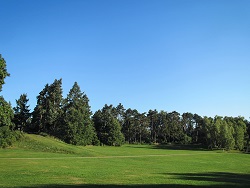 The public park will have a price tag of $15 million and will be an oasis that anyone can visit at any time of the year. Today the space is a parking lot with overgrown grass along the river.
The new park will consist of 16 acres of green space. When the Stampede is on, the new Indian Village will be resting there. The new area will allow the tepees to form a traditional circle. Up until now, the tepees had to form an oval due to space limitations in the existing area. When the Stampede is over the park will open up once again to the public.
The plan calls for 800 new shrubs and 200 trees, a small log house and informational signs that will teach visitors about the Calgary Stampede legacy, environmental stewardship and about the history of First Nations of Treaty 7.
Construction of this new park will start immediately following the closing of the 2014 Stampede. By next summer the park will be open to the public and by 2016 it will be used by the Calgary Stampede.
The plot of land that will be making up this park is leased out to the Stampede and owned by the City of Calgary. ENMAX Park will be a beautiful new addition to the area and will celebrate the relationship between ENMAX Corporation and the Calgary Stampede. It will be another welcome addition to this city that already boasts an abundance of spacious green fields, parks and trails.