Are You Planning on Staining or Painting your Fence this Year? Here's a Quick How-To Guide to Help Get You Started
Posted by Justin Havre on Friday, June 7, 2013 at 11:00 AM
By Justin Havre / June 7, 2013
Comment
A great-looking fence will add a lot to the curb appeal of your home. When your fence starts to look old and worn, it's time to get it spruced up again with stain or paint. Both chain-link and wooden fences can benefit from a paint job.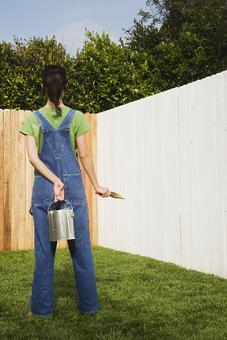 Preparing the ground
Clear the area around the fence completely, getting rid of any overgrown weeds or grass and raking up any leaves and debris near it.
Preparing the fence
In order to see the best results possible you'll want to first clean your fence using a power sprayer if you have one. Then you'll want to scrape off any peeling paint and then sand it with fine or medium grit sandpaper. You'll then want to give it a final rinsing and use the scrub brush when necessary to remove any rough finishes that you may have missed during the sanding process.
If you encounter any mildew or mould when you're working on your fence you should clean it with some household bleach mixed on a one-to-one ratio with water. While you don't have to worry about removing all of the mould, this treatment will help stop the problem from recurring.
If you happen to see any loose boards or damage to the wood caused by insects that cannot be easily repaired, you'll have to replace the wooden boards before starting to paint. Any repairs should also be carried out before the painting begins to ensure a smooth-looking paint job.
Choosing the Paint
When you're choosing the right stain or paint, look for a stain or paint that contains UV protection and says on the can that it is suitable for exterior use. Apply the paint with a roller or rent a sprayer from your local home improvement store. Make sure that you put down some drop cloths around the fence before spraying or painting so that the grass around it doesn't end up turning white like the color of your fence!
In order to keep your fence looking its best and to reduce the amount of time before your next paint or stain job, perform yearly touch-ups of any areas that are showing signs of peeling. With these touch-ups, you may get an extra year or 2 out of the paint or stain job while continuing to add to your home's curb appeal.