Bathroom Renovation Ideas to Increase the Value of Your Home
Posted by Justin Havre on Thursday, September 7, 2023 at 10:25:02 AM
By Justin Havre / September 7, 2023
Comment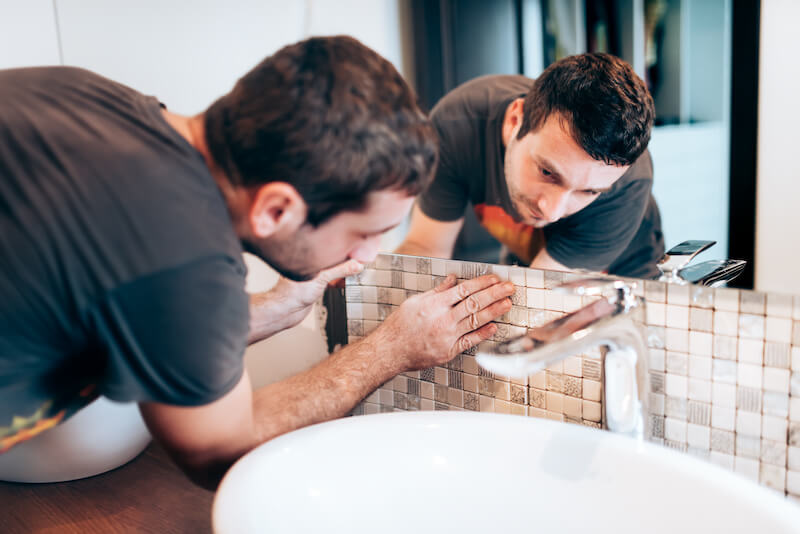 When it comes to home renovations, kitchens and bathrooms are typically at the top of the "must-fix" list. This is because these are the two areas of the home that often see the highest return on investment (ROI).
A minor bathroom remodel returns an average of 102%, whereas a minor kitchen remodel returns, on average, 98.5%. Thankfully, a few well-placed changes and updated fixtures can transform an outdated bathroom into a modern oasis.
Here are a few bathroom renovation ideas to boost the value of your home.
For informational purposes only. Always consult with a licensed real estate professional before proceeding with any real estate transaction.
Upgrades to the Bathroom Fixtures
Upgrading bathroom fixtures is an effective way to increase the value of your home without doing a major bathroom remodel.
Upgrading the Sink and Faucet
Replacing the sink and faucet with brand-new fixtures can easily transform any bathroom's aesthetic appeal. Modern components with a dash of style can give any restroom a fresh, updated appearance and feel.
Replace Old Toilets and Showers
To increase functionality and boost the value of your home, consider replacing old toilets and updating your shower. According to a 2023 article on bathroom renovation costs in Toronto, updating bathroom features is a terrific way to add worth to your house without breaking the bank.
Add a Bathtub
Adding a bathtub can likewise increase the worth of your home. An elegant tub can create a spa-like environment in the bathroom, making it a better feature for prospective buyers.
Why not unwind and relax after a long day in your spa? According to the Spruce, a modern bathtub is among the best investments in terms of a bathroom upgrade.
Other Cosmetic Changes and Upgrades
If you're brainstorming bathroom renovation ideas to spike the value of your house, focus on repairs, accessibility functions, and cosmetic upgrades. Widening entrances and transforming a basic tubbed shower into a walk-in shower are excellent bathroom renovation ideas that increase the worth of the home. Additionally, upgrading tiles, flooring, and cabinets can significantly influence a bathroom's appearance and increase your home's worth.
Renovate the Floor and Walls
One of the most reliable ways to increase ROI through a bathroom renovation is by updating the flooring and walls. Installing a tile surround or new tile flooring can significantly improve the total look of the bathroom and make it more functional.
If your floor needs repair or is out-of-date, consider changing it with brand-new flooring that is both trendy and durable. This alone can assist in increasing the resale worth of your home.
Paint or Wallpaper the Walls
Additionally, painting or using wallpaper on the walls can provide a fresh, updated look. This economical approach allows you to change the space without significant structural changes.
Add New Lighting Fixtures
Another way to increase the worth of your house through bathroom updates is by including brand-new lighting fixtures. Good lighting can enhance the overall ambiance of the bathroom and make it more functional.
Consider setting up brand-new light fixtures—that are stylish and energy-efficient—to create a more modern and eco-friendly bathroom.
Upgrading your lighting can also assist in highlighting other functions of the bathroom, such as the new floor and wall finishes.
Storage and Organization Upgrades
Another way to increase the value of your home through a bathroom renovation is by upgrading the storage and organization features.
Install Built-in Shelving and Cabinets
Installing built-in shelving and cabinets can provide extra storage space while also adding style to the bathroom. Custom built-in cabinets and furniture pieces can increase the value of a home. Additionally, built-ins made with high-quality materials, such as hardwood, can further increase a property's value.
Incorporating these features into a bathroom renovation can not only increase the value of your home but also provide practical storage solutions.
Adding a Vanity or Dressing Table
Another storage and organization upgrade to consider is adding a make-up vanity or dressing table to the bathroom. This feature can provide a dedicated space for getting ready and storing personal care items.
A well-placed comfy chair and make-up vanity can add value to a bathroom renovation. By incorporating a vanity or dressing table into a bathroom renovation, you can create a functional and stylish space that adds value to your home.
Installing New Mirrors and Medicine Cabinets
Finally, installing new mirrors can enhance the functionality and aesthetic of a bathroom while also increasing its value. Mirrors are also great for reflecting light and making small bathrooms feel brighter.
Upgrading these features can provide a fresh and modern look to the bathroom, making it a valuable asset to your home.
Technology and Smart Home Integration
Integrating innovative technology and smart home functions into your bathroom remodelling is an excellent way to increase the worth of your home.
Smart Toilets and Bidets
Smart toilets and bidets are trending, with popular functions such as heated seats, automated opening and closing, and self-cleaning capabilities. These features bring the high-end appeal to your bathroom as well as improve health and comfort.
Touchless Faucets and Soap Dispensers
Similarly, touchless faucets and soap dispensers have become popular recently, using a more sanitary alternative to traditional fixtures. These features are convenient and also help to reduce the spread of germs and bacteria.
Bluetooth Speakers and Entertainment Systems
Another popular technology trend in bathroom renovations is the addition of Bluetooth speakers and entertainment systems. These features allow you to listen to music or watch TV while getting ready in the morning or relaxing in the tub at night. This added convenience and luxury can make your bathroom a more enjoyable and relaxing space.
Additionally, incorporating smart lighting and temperature control systems can create a more personalized and comfortable experience in your bathroom.
Keep in Mind Your Home's Market Value
When considering bathroom renovation ideas, it is important to remember your home's market value and the cost of the renovations makes sense for your property. It is important to keep the upgrade proportionate to your home's value.
However, even small updates like touchless fixtures or smart technology can add value and appeal to potential buyers. By incorporating these technology and smart home features into your bathroom renovation, you can create a more functional, comfortable, and valuable space in your home.
Renovating your bathroom is an excellent method to increase the value of your home. By upgrading cosmetic features, you can develop a more modern and functional bathroom that will interest prospective buyers.
With the right remodelling concepts and a little imagination, you can change your restroom into a space you love while enhancing the resale value of your home.
For informational purposes only. Always consult with a licensed real estate professional before proceeding with any real estate transaction.