Being a good human at Calgary's off-leash parks
Posted by Justin Havre on Wednesday, July 27, 2016 at 12:31 PM
By Justin Havre / July 27, 2016
Comment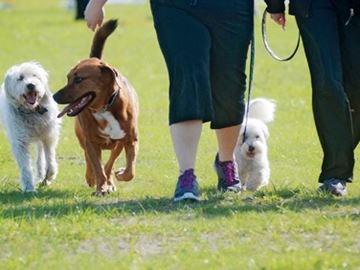 No matter what community you choose to buy a home in, chances are you're close to one of our city's fine off-leash parks. In fact, there are 150 designated areas throughout the City of Calgary that are deemed off-leash. This means you can let your dog run, as long and it's under your control. Bear in mind that these are not specifically dog parks – they are regular parks where dogs can be off-leash so there is a distinction. The City doesn't actually have a dog-only park; however there is space in the South East near Elliston Park operated by the Calgary Associated Dog Fanciers.
Good off-leash ambassadors
Because the park space is shared with humans and dogs alike, the City of Calgary has instituted an ambassador program to help citizens who may be struggling with a foster dog, a puppy or an adopted rescue animal that doesn't always come when it's called. These programs are called Dog Recall Training and are free at specific times and locations. The City's Animal Services department offers the services of Certified Professional Dog Trainers to learn how to get your dog to come. The next events are:
Date: August 6, 2016
Time: 11:00 a.m. to 2:00 p.m.
Location: Sue Higgins Park (formerly Southland Dog Park)
Registration: Registration will be taken until July 29. Call 311 or visit 311online.ca
Date: October 22, 2016
Time: 11:00 a.m. to 2:00 p.m.
Location: Auburn Bay Off-Leash Park
Registration: Begins September 6 by calling 311 or visit 311online.ca
Off-Leash Volunteers
The City of Calgary is also hoping to recruit volunteers for the Ambassador program to help promote responsible dog ownership and safety in off-leash parks. Volunteers will be trained in all aspects of Calgary's off-leash and dog by-laws and as a side benefit, promote pet licensing and adoption from the City's Animal Shelter. Volunteers will also be liaison between the public and the city, taking concerns from citizens back to municipal officials. Interested people can also call 311.
Remember, pick up your dog's poop
Most responsible dog owners carry plastic bags whenever they're off-leash with their pups; however, more education is required due to some myths that some dog owners still believe to be true.
The poop on dog waste
Doggie droppings are actually a hazardous material. As a pollutant, it's in the same class as chemicals.
They are not like horse manure and do not make a good fertilizer. The content is toxic to our lawn and like urine will cause the grass to burn.
Dog feces may be full of unhealthy parasites such as tapeworm or roundworms and can spread. Roundworm larvae can cause organ damage in animals and in humans, including the eyes and brain.
In addition dog poop can be full of E. coli or salmonella which can cause illness in humans. Not that you would pick up poop with your bare hands, but it tracked in the house on the bottom of a shoe you just never know.
Dog poop left outside is the number one contributor to the contamination of storm water.
Because today's dog foods are so rich in nutrients, the excess is excreted making it very attractive to coyotes and other wildlife.