Decor and Design Ideas for Your Backyard
Posted by Justin Havre on Wednesday, May 15, 2013 at 12:30 PM
By Justin Havre / May 15, 2013
Comment
As the summer approaches you'll want to be ready to soak up the sun during the afternoon or to enjoy a barbecue in the backyard with your friends. When summer arrives the only time you may want to spend inside is when the rain starts to come down and if you're like most people you're going to be spending all the time you can in the great outdoors.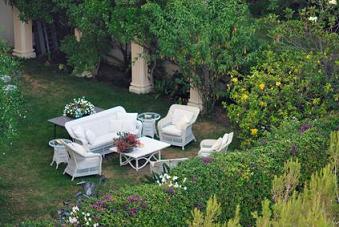 Finding the Right Outdoor Furniture
Are you a wood, wicker, plastic or metal type of person when it comes to choosing the materials for your outdoor furniture? Wicker should only be used in places where the elements of nature can't reach it while wood, plastic and metal furniture can usually withstand more. Most of your wood options will require yearly maintenance, however, and metal furniture will also need to be treated regularly to prevent rust from forming. Plastic requires less maintenance but many prefer the look of the other materials.
Creating a Party Space
If you love to entertain you'll want to put together a special area where guests can congregate and the barbecue can get fired up. In this area you may want to set up some comfortable chairs and perhaps an outdoor sofa. There should also be a table available for guests to lay their drinks and set their food during the festivities.
You can also set up an outdoor bar in this area if you have the room available. With plenty of ice in a bucket, the drinks can be served here without having to deal with the hassle of running back and forth to the kitchen every time a guest's glass is empty.
Plenty of Play Space
If you have kids you'll need to set up a play area that gives them plenty of room to run and burn off some of their excess energy. This part of the yard should have tough grass growing on it so that it doesn't get too worn with all of the activity happening!
Adding a Dog Run
If you have a dog, it's always best to build him a dog run that is separate from the rest of the yard. This way you'll never have to worry about dog messes in the yard.
Keep it Spacious
When you're designing your backyard make sure that you keep it spacious and don't let it get it too cluttered with a lot of items. If you do see that the clutter is gaining on you, perhaps it's time to invest in a small pre-built shed that can hold the toys and other miscellaneous items to keep them out of view.