Does your garden style match the style of your home?
Posted by Justin Havre on Wednesday, March 23, 2016 at 9:12 AM
By Justin Havre / March 23, 2016
Comment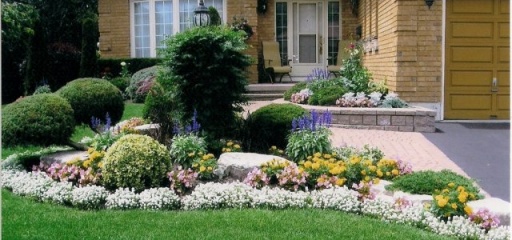 Chances are that you, the home owner, didn't design the home you're presently living in. There are of course exceptions, but the vast majority of us are living in a home that we didn't design ourselves. The builder and the builder's architects did. But more often than not, we have designed our yard and our garden.
Do you have a modern home with avante-gard design features or a mid-Century bungalow? It's important that your magazine-cover home with its sleek design have an equally sleek garden. Or your cottage-style bungalow should have an English garden, otherwise your exercise in horticultural contrast could be costing you value in curb appeal.
Just as today's modern homes are "open concept" in terms of interior layouts, so should your yard. Often, as was the style 40, 50 and 60 years ago, hedges and bushes or shrubbery was placed to break up vast amounts of lawn. Evergreens between the patio and the back gate. Sometimes the goal was privacy and visual interest and often, sunlight needed to grow other vegetation was blocked off.
Removing unnecessary plants can help your yard look more modern.
If the exterior of your home has been brought up to speed with beautiful cedar siding or gorgeous slate then the last thing you want to have in your yard are gazing balls from the 90s and garden gnomes. Yes, you want your front and back yard to reflect your personal style but it still needs to be a good marriage between what you like and what others will like when they walk or drive by your home.
Start with a plan on paper. Print off a picture of the front of your home or even several prints and start sketching out some ideas. Incorporate elements that you may have seen in magazines or on home and garden apps, perhaps from saved boards in Pinterest if you're so inclined. There are a few cardinal rules to follow. A formal looking house looks much better with formal landscape elements in the front. Drive or walk around your neighbourhood and check out what others have done. Do you have a California-split circa 1958? What have other people done that looks awesome?
Thoughts on Decking
Whether you have a deck off a patio door or stand-alone garden decking, there's great appeal in recent times. But some decks can be hideous if they're not the right style, the proper materials or even the correct dimensions. When it's just not right, it can seriously take away from the beautiful design of your home.
Decking looks great with new homes that have light coloured brickwork (off-white, beige, grey). Homes that are geometrically appealing with right angles and clean lines and multi-level homes. It blends together well. Deck materials and colours should be similar shade to decking materials to avoid glaring contrast. Pots and lawn furniture on a deck should match the secondary colour of your home. Most homes have a primary and a secondary colour – then an accent colour like the front door
Alternatives to Grass
In addition to less work and less water, mulch or wood chips can be a nice touch in your yard particularly if your home is rustic or has dark colours in the exterior and is of a more traditional style. Again, using those print outs of the exterior of your home, pencil in over the grass or if you're super creative you can Photo Shop out the grass. Think that's too hard? Imagine ripping out your lawn and spending a whack of cash on mulch only to see that it looks really bad.