Farm Construction and Building Codes
Posted by Justin Havre on Friday, August 8, 2014 at 2:07 PM
By Justin Havre / August 8, 2014
Comment
It's interesting to note that farm buildings don't have a lot of requirements in their building codes. They don't have to meet the regular standards like other buildings do and the National Building Code of Canada does not cover them. This code only covers new residential and commercial buildings in terms of their construction and design, as well as substantial renovations in these types of existing buildings.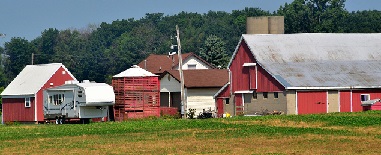 After the brutal winter that we went through last year, more farmers understand the importance of building structures that are more stable. In central Alberta, there were reports of more than 12 barns that collapsed and in some cases, cattle were killed. There was also extensive damage done to farm equipment due to the collapsed buildings.
Structural problems along with heavy snowfalls were to blame for these collapses. Farmers that have to rebuild due to the damage that was caused by the harsh winter, or other farmers that want to upgrade an agricultural building should look at getting an engineered structure.
In some cases insurance companies won't provide coverage for farm buildings that aren't up to certain standards. This was the case for some of the buildings that came down this winter. Before attempting a new building project it is best to talk to your insurance company first to make sure that coverage will be provided. This is especially true if the building will be containing high-value assets.
Farmers should also find out whether there are new developments or building permits necessary for repairing or constructing agricultural buildings. In Alberta, for example, permits are required for mechanical installations and electrical wiring.
Farm buildings are much different than residential and commercial buildings since they span a long distance and have large doors. Consulting with an experienced professional is important so that snow and wind loads can be factored into the design of the building. While we hopefully won't have the same type of winter this year as we did last year, it's always best to be prepared through professionally designed farm buildings that are either newly constructed or need extensive renovations.