Handle the Clutter in Your Kitchen before Putting Your Home on the Listings
Posted by Justin Havre on Monday, January 13, 2014 at 11:57 AM
By Justin Havre / January 13, 2014
Comment
Quite often the kitchen becomes the deciding factor in a home when it is on the market. Buyers will spend a lot of time examining your kitchen and the last thing you want scattered around is a lot of clutter. This room is often the focal point of the entire house so you'll want to make sure that all of the clutter is cleared up before you allow any viewers into your home.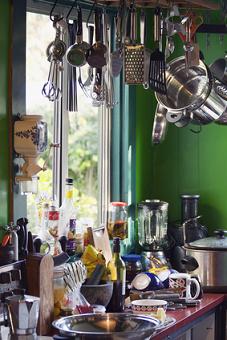 The counter
You probably lead a busy life and if you have children, it's hard to keep the counter clean. Do your best though when your home is being viewed. Everything, except for perhaps a couple of major appliances, should be removed from the counters so that the area appears spacious and organized. If you have a high-end granite or quartz countertop, you'll want to keep it uncluttered to show it off!
Organize the cupboards
If you haven't gone through your covers for a while, it's best to do so now. Anything that you don't need should be put into storage or given away and anything left should be displayed neatly. Food items should be laid out as you would see them in a grocery store - in neat rows and organized in food categories.
Don't forget the cupboard below the sink
Make sure that this cupboard is cleaned out thoroughly before showing your home. It's amazing to see just how many viewers will open the kitchen cupboards to find out how much storage space is inside each one. Yes, some people are going to open the cupboard under the sink so it should be clean and tidy.
Organize the kitchen drawers
De-clutter, organize the drawers and wipe them out as well. Some of the most frustrating things to find in a kitchen are kitchen drawers that you need to fight with to open. You can bet that any serious potential buyer will be opening the drawers in the kitchen to see how easily they run along the tracks.
Of course, you'll want to make sure that the kitchen table, major appliances, floors and walls are all clean as well. This is the one room of the house that you'll need to have sparkling when a viewer is looking through your home with the purpose of possibly buying it.