How and Where to Recycle your Christmas Tree in Calgary
Posted by Justin Havre on Sunday, January 1, 2017 at 11:50 AM
By Justin Havre / January 1, 2017
Comment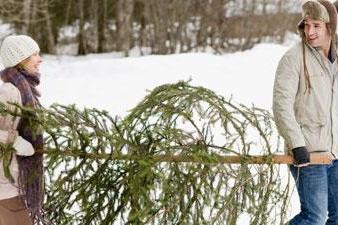 Fans of real live Christmas Trees are no doubt sad to hear that the City of Calgary will not be picking trees up for recycling this January. This year, it's up to you to drag your tree out to the nearest drop-off point. Which is a shame because that tree was nice and fresh when you got it last month – now it's dry and the needles are falling all over the place. But you know, it's worth it to turn your tree into mulch rather than putting it in the landfill.
If you have previously had a leaf recycling area in your community, you may have been able to drop your real tree off at this location in years past. This is not the case this year. Leaf drop off locations are NOT set up to receive trees this year.
If you absolutely can not get your tree to one of the recycling stations listed below, then you can certainly chop it up into pieces small enough to be contained in your black cart.
If you live in one of the communities in which green carts are being piloted, you can stuff your real tree into the green card as long as the trunk diameter is less than six inches. The lid must close completely. If some of the branches don't fit into your green cart you can put them into yard waste bags or you can tie them into bundles no larger than 1.25 metres but you must use non-plastic natural fibre only string.
You can't put your real tree, or your artificial tree for that matter, into a blue cart. This is for non-organic recycling only.
The good news is, there are 16 drop-off areas that the City of Calgary has made available from now until January 31, 2017.
Prepare your Tree
Double check that you have taken off all the ornaments, strings of lights, tinsel or garland and that it's been removed from the tree stand. Don't wrap your tree or bag it unless you are doing so just for transporting it. When you reach a designated recycling drop-off location remove the bag or wrapping.
You can take your tree directly to one of three landfills in the City of Calgary which are open Monday through Saturday from 7:30 am to 5:00 pm. Check with the City of Calgary's website because these hours will be changing effective January 9. Calgary.ca/landfill.
The landfills are located at:
East Calgary: 17 Ave. SE & 68 St. SE
Shepard: 114 Ave. SE & 69 St. SE
Spyhill: 69 St. NW & 112 Ave. NW
In addition to the landfills, the City of Calgary has designated 13 addition locations for tree drop-off:
Calgary North West
Bowness: 7937 – 43 Ave. NW
Confederation Park: 905 – 30 Av e. NW (east parking lot, not at the community association)
Calgary North East
Huntington Hills: 7920 – 4 St.NE (intersecting with Huntstrom Dr. NE)
Prairie Winds: 54 Ave. NE & Castleridge Blvd. NE (south parking lot)
Bottomlands: St. George's Dr. NE & 7 Ave NE
Calgary South West
Marda Loop: 3130 – 16 St. SW
Parks Depot: 10312 Sacramento Dr. SW
North Glenmore: 6615 – 37 St. SW
Woodbine: 96 Woodfield Dr. SW
Calgary South East
Park 96 – 14660 Parkland Blvd. SE
Ogden: Pop Davies Park at Ogden Rd. SE & Millican Rd. SE
IKEA: 8000 – 11 St. SE (NW parking lot behind store)
Auburn Bay: 52 St. & Auburn Bay Dr. SE (off-leash area)
The City of Calgary has excellent information on its website in regards to what types of holiday materials, from ribbon to wrapping paper, that you can and can not recycle.