How Much Money Can You Save with a Digital Programmable Thermostat?
Posted by Justin Havre on Thursday, April 24, 2014 at 12:02 PM
By Justin Havre / April 24, 2014
Comment
Can a programmable thermostat save you money? Yes it can. If you are still working with the older type of thermostat in your home, making the switch over to a programmable one can actually save you hundreds of dollars per year. It's a wise investment to make and one that can make your home a little greener.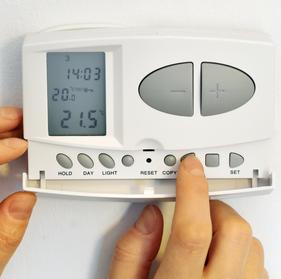 On average, a family will spend $2,200 per year to keep their residence warm in the winter and cool in the summer. By installing a thermostat that can be digitally programmed, the savings can run as high as $300 - $400 yearly. This equates to thousands of dollars over the life span of the thermostat.
They are easier to work with too. You can preset the unit to the temperature you'd like to have in your home when you're sleeping, at work or at home. You can lower the temperature at night when you're sleeping and have it set higher for when you wake up. When you're at work, you'll be able to adjust the heat so that your home temperature isn't too high or too low.
With the older types of thermostats it's just about impossible to set the heat to an exact temperature. It usually takes some time to fiddle around with the adjustments to get your home feeling just the way you want it. With the new programmable types, you can set it digitally so that all of the guesswork is removed.
The newest generation of thermostats are the smart types with impressive features. Some have Wi-Fi capabilities built into the units so that you can control the temperature from a mobile device or computer. Other models give you the option of using a 7-day program or a 5-day program with the ability to make different settings for the weekend. Many also come with a touch screen now and are available in a variety of attractive designs. The screens are easy to read and have back lighting so that they won't be affected by glare. If you have young children, you can even purchase a thermostat that works with a keypad. Kids won't be able to adjust the thermostat themselves when you're not looking.
Investing in one of the newer digital thermostats will save you money in the short run and in the long run. Most come with a 5 to 10 year warranty and are simple to set up. If you're looking for an efficient way to cut down on your energy bills, this is one of the fastest and easiest ways to get it done.