How to Save Money at the Calgary Stampede
Posted by Justin Havre on Thursday, July 7, 2016 at 3:02 PM
By Justin Havre / July 7, 2016
Comment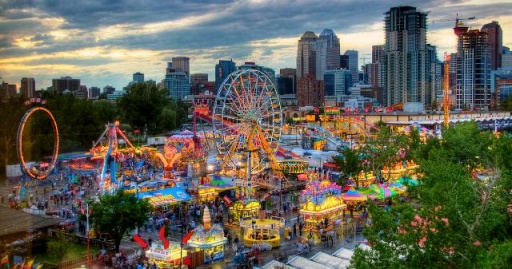 There have been many highs and lows during the 104 years that the Calgary Stampede has been around. This might be one of the low years but that doesn't deter folks from cutting lose and enjoying the Greatest Outdoor Show on Earth. Calgarians work together and that's why the Calgary Stampede has plenty of options for people to get the most value of out the next ten days.
Here are the best values for Calgarians at the 2016 Calgary Stampede:
Suncor Family Day
The early bird gets the worm and this year is no different. This first Sunday of Stampede, July 10, here's what you can expect at Family Day:
Everyone gets in free between 6:00 am and 9:00 am.
The first 20,000 folks through the turnstiles can enjoy a free breakfast, also sponsored by Suncor. While quantities last, of course. When you come through any of the many entrances to Stampede park, be sure to get a free ticket for breakfast which will be served from 7:00 am to 9:30 am in the courtyard adjacent to the Grandstand on the east side of the grounds . This ticket will also admit you into the Grandstand to see the variety show anytime between 8:00 am and 10:00 am on this day.
The park opens at 6:00 am on Sunday, July 10 but the Midway, Stampede Market, the BMO Centre and Buckaroos will all open at 9:00 am.
Western Heritage Day
This is a long-standing single day on July 12 in which the Calgary Stampede salutes citizens which have built our city and our country. Here's what's happening on Tuesday:
Anyone aged 65 and older can come through the park gates at any time of day for free beginning at 9:30 am. Guests of senior citizens under age 65 must pay regular park admission.
The Calgary Stampede will make fresh coffee and pastries available for seniors at the steps of the Saddledome, while supplies last.
Loram 99, a local business management consultant firm, has made special commemorative pins available for all senior guests on Tuesday.
Seniors can also enjoy WestJet Skyrides throughout the day.
Seniors who are able can enjoy standing room tickets at the Rodeo and Evening Grandstand Show at no charge. Reserved tickets must be picked up at the main Ticket Office. Tickets are first come first served.
BMO Kids Day
Kids day is almost always on Wednesday and is something families plan for. This year is no exception.
The park will open at 7:00 am on Wednesday, July 13 with free admission for kids aged 12 and under and the adults that are accompanying them. Admission applies for children over 12. Free admission is from 7:00 am to 9:00 am only.
Families can take advantage of free breakfast from 8:00 am to 9:30 am in the courtyard by the Grandstand while supplies last.
The variety show on the Grandstand is also free beginning at 8:00 am.
Kids can grab free Thunder Sticks courtesy BMO during breakfast while they last.
There will be free draws for prizes before noon.
Coupons for the Kids Midway will be available at a discounted price from 9:00 am to 6:00 pm.