Lots crackin' at Brokin' Yolk
Posted by Justin Havre on Monday, February 29, 2016 at 3:38 PM
By Justin Havre / February 29, 2016
Comment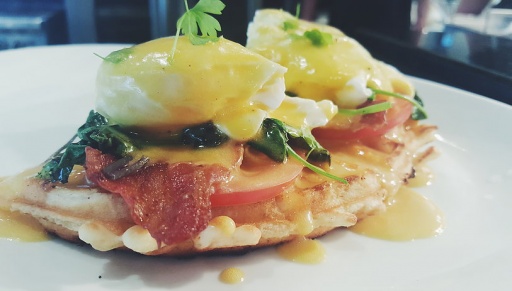 It's the hottest breakfast spot on Calgary's north side.
The Brokin' Yolk on Symon's Valley Road NW equals any of the trendier coffee and breakfast shops downtown, catering to a largely suburban crowd in the community of Evanston.
Two brothers opened the restaurant recently, bringing 20 years of experience. Their philosophy is that their kitchen is your kitchen, and the Brokin' Yolk is simply an extension of your home, only their team does the cooking and the dishes afterward.
The brothers source as much of their food and ingredients locally to support the community and the businesses in which they live and work. Because of their farm-to-table philosophy, they carefully select everything, from the fruits and vegetables, meat, coffee and especially the eggs. All of their eggs are free range, Omega 3 organic eggs and come from Alberta farms.
The menu is extensive with many dietary restrictions and preferences noted. There are gluten-free dishes, vegan options and everything is coded. That includes toast and English Muffins made in their own dedicated toast, for a $2 extra charge.
Be prepared to wait if you visit on the weekend.
Waffles
The brothers make their own Belgian Waffles which are available in appetizer size or as your breakfast entrée. They're $2 each so order as many as you want. Toppings include maple syrup, white chocolate lavender, salted caramel, drunken berry compote or dark chocolate espresso.
Eggs Benedict
Brokin' Yolk presents an Eggs Benny Bar with a variety of variations, served on a waffle with a side of hash. The Bacon Benny features sautéed kale. Upstream Benny has salmon and wilted spinach. Veggie Benny features eggplant instead of ham and Oscar Benny has mushrooms and a thick slice of ham.
Breakfast Poutine
Not for the faint of heart, or heart condition. Instead of classic French fries, the brothers' poutine consists of duck fat hash with poached eggs cheese curds and hollandaise. You can have your choice of house cured bacon, slow braised short ribs or fried chicken with your poutine.
Breakfast Classics
Chicken and waffles, French toast fondue, short rib or vegan hash and the traditional Farmer's Breakfast with a twist are just some of the breakfast classics. There is also a menu for kids with smaller portions of course for a smaller price.
Lunch too
There are sandwiches, burgers and salads on the menu as well for early or late lunch. Plus all your favourite coffee drinks from your Brokin' Yolk barista.
Supporting the community
The brothers believe in giving back to the community and their Calgary charity of choice is Kidsport. This local organization makes sure that kids in families without resources to pay for registration for sports can be taken care of. When you order still or sparkling water, which is identified on the menu as "Q-Water", $1 from every drink goes to Kidsport. Or you can provide a donation!
Brokin' Yolk is open from 7:00 am to 3:00 pm every day at 12580 Symon's Valley Road NW by the Tim Horton's.