New stores for Auburn Bay
Posted by Justin Havre on Tuesday, October 27, 2015 at 9:28 AM
By Justin Havre / October 27, 2015
Comment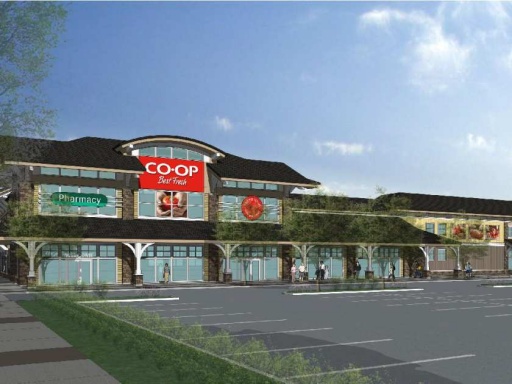 Residents Welcome Commercial Development
The South East lake community of Auburn Bay will finally get a shopping centre next year.
Dubbed "Auburn Station", the 84,000 square-foot centre will have a Calgary Co-op store as the anchor tenant. With the Co-op will come a gas station and a Co-op Wine Spirits and Beer store. Completion of the commercial complex is expected to be completed in late 2016.
Auburn Station, part of Brookfield Residential Communities' master plan for the community, is currently under development at the corner of Auburn Meadows Dr SE and 52 St SE. Future tenants will be convenience retail outlets which will cater to area residents daily needs. This location is next to Auburn Bay's proposed LRT station which is still 15 to 25 years in the future. This space is currently on Calgary Transit's Greenline route which is a rapid transit alternative.
The Green Line, recently accounted by the City of Calgary and the province, will connect the far reaches of the South East quadrant with the core. The line will extend from downtown with Seton, a 26 km route with 15 new transit hubs. Construction should begin in 2017 with the first 10 km scheduled to be built from downtown to the community of Douglas Glen.
In Auburn Bay, the first homes were ready for occupancy nearly 10 years ago in this South East neighbourhood; however a critical mass has to gather first before a developer will continue community build-out with the addition of a shopping centre. Retailers are looking for core group of shoppers. The City of Calgary census recorded a population of 10,000 residents in the community.
Auburn Bay is in the heart of the city's fastest growing section of the South East. Residents can access Deerfoot Trail and Stoney Trail relatively quickly. The South Health Campus, the new mega-hospital in nearby Seton, is just minutes away. Auburn Bay is one of the South East's highly popular lake communities, with a 43-acre recreational lake and private beach. Auburn Station is touted as the only commercial node in the community once completed.
Until construction is completed next fall, Auburn Bay residents will shop at nearby Cranston Market, McKenzie Towne's High Street or at South Trail Crossing at 130 Ave SE. There is a Calgary Co-op in this location. Auburn Bay residents also currently do their shopping in Seton at the Gateway Retail District. This is a 130,000 square-foot commercial complex with a Save On Foods store, banks, pharmacies, coffee shop and gas stations. There are some quick serve restaurants and a neighbourhood pub.
Also scheduled to open and/or to begin construction in Seton are:
A 300-unit seniors community with age-restricted condos, assisted and supported living.
A Courtyard Marriott and Residence Inn location with 225 rooms
A Real Canadian Superstore with adjacent gas bar and liquor store.
A Cineplex theatre licensed for food and beverages catering to the over 18 crowd.
A recreation centre and public library with pool, fitness facility, gymnasiums and ice rinks.
Another 200,000 square foot shopping centre.
A medical centre next door to the South Health Campus.