7 Steps for Repainting Your Kitchen Cabinets
Posted by Justin Havre on Wednesday, September 25, 2019 at 12:04 PM
By Justin Havre / September 25, 2019
Comment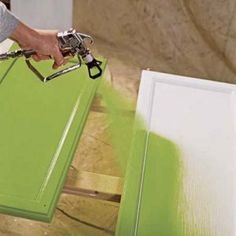 Want to freshen up your Calgary home before you sell it? Painting existing kitchen cabinets is one of the easiest ways to update a tired kitchen, but it's easier said than done. It's not as easy as painting a wall or trim and requires a great deal more preparation.
To make the job mistake-free with less mess and a more perfect job, follow these basic steps:
Put Labels On Each Item
Remove all the cabinet doors and the hinges. Some people paint right over the hinges because its easy and they're in a hurry. But it looks unprofessional and sloppy and that can translate into lower offers. Take everything off and label each door. You might draw a map of your kitchen and match the labels with the position on your map. Put hinges in a clear plastic bag. You might think that all your doors are the same size but just to be safe, put a label where the hinge is.
Label your hinges so that they can be put back in exactly the same spot. This is critical if your cupboard doors and hinges are old. Hinges can wear differently over the years. Some have started to sag due to gravity. Larger cupboard doors are heavier than smaller doors so the repeated opening and closing have created different wear patterns.
Wash The Surface Very Carefully
Washing years of grease off your cupboard doors is a very important step. Grease will stop paint from bonding to the surface of your cupboards. It's not just kitchen grease, but oil from your fingers and oily residue from cleaning products. The best thing to use is trisodium phosphate or any other product guaranteed to degrease items in the home.
Take Off The Glass
If your old cupboard doors are glossy, you need to further remove that shine so that the new paint will bond to the surface. The good news is, you don't have to sand the surface. This is a really messy step and if you're doing the work right in the kitchen you'll get sawdust through out the rest of your home. Put science to work and use a liquid de-glosser that you just wipe on, leave and wipe off. Follow the directions carefully. Your local home centre or hardware store should be able to recommend an appropriate product to be used in a well-ventilated area.
Prime Your Cupboards
A good primer will do two things. It will cover stains that you just can't get out any other way and seal them. It will also give the surface of your cupboards some bite, creating a good surface for the new paint to bond to. Choose a shellac primer or an oil-based primer as opposed to a water-based primer.
Don't Forget the Hardware
Before you do anything related to priming or painting your cabinets, think about what hardware you want on the doors and drawers for them to look their best. If you're planning to replace the knobs and hinges, check to see how the new ones will fit so you can fill any holes and drill new ones. By being proactive, you will avoid getting to the end of your painting and needing to ruin the finish to add new knobs to your cabinets.
Ready To Paint?
You'll want a paint specifically designed for cabinets so that it's durable. Paint manufactured for walls or for the exterior of your home or even for trim just isn't tough enough. Look for a satin sheen so that your cupboards will be washable. A urethane-modified acrylic is something you might want to check into. To ensure an even application of paint, without unsightly brush stroke marks, hairs stuck in the paint or worse – drips – use a paint sprayer. If you've hired a contractor for this job, no doubt they'll do this work in an outside facility. The box can be painted by hand if required. If you do this yourself in your kitchen, seal the room or at least remove the furniture if you have an open concept home. You can't see paint spray but it does have a way of settling on nearby objects.
Dry And Install
Once everything is hardened, put the hinges and doors back in the same order. Put new hardware on after cupboards have been put back in place to ensure they're level.