The True Value of Staging Your Home
Posted by Justin Havre on Friday, February 6, 2015 at 8:34 AM
By Justin Havre / February 6, 2015
Comment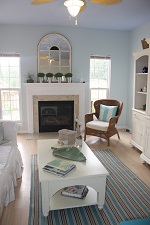 We are visual beings and even though we are advised not to judge books by their covers, we have the tendency to evaluate situations and things based solely on what we can see. If you are a potential home seller, you should always remember this fact before you let buyers into your home. The value of your home on paper might be impressive, but the only way you are going to convince a buyer is if your house looks the part. Staging your house will go a long, long way in not only how fast you sell your home, but at what price as well.
For effective staging keep these few tips in mind:
Cleanliness
Dirt and clutter are a total game changer to a buyer. They will also distract the buyer from seeing your home for what it is. Instead of seeing the incredible dimensions of your living room, they will take note of the yellow-green goo on the carpet. Clean your house from the top floor to the basement before you present it to a client.
Smells and Odours
Who wants to move into a place that has the pungent aroma of rotting garlic or mold? Make sure your house is odour free because bad smells might drive away potential buyers.
Upkeep and Maintenance
Before you put up the 'for sale' sign, make an effort to refurbish your home because this will immediately increase its value and attract buyers. Repaint peeling and faded walls, fix the fencing, oil the squeaking door and replace broken interlocking stones. Basically, fix any minor issues that are easy and inexpensive to fix. These small alterations will give you big returns.
Functionality
Make sure everything works. Call in a plumber to mend that irritating leaky faucet or the troublesome bathroom sink. Make sure that the heating, lighting and ventilation systems all work too.
Staging your home for a buyer will not cost you much, but you will reap the benefits of a quicker sale and a higher profit.