Tips for the Calgary Garden
Posted by Justin Havre on Tuesday, January 31, 2012 at 9:23 AM
By Justin Havre / January 31, 2012
Comment
Bring a little bit of Eden to your Calgary home this year. Gardening is good for the body, the soul and your investment. An old Chinese proverb reads: "If you want to be happy for an hour, get drunk; if you want to be happy for three days, get married; if you want to be happy forever, make a garden."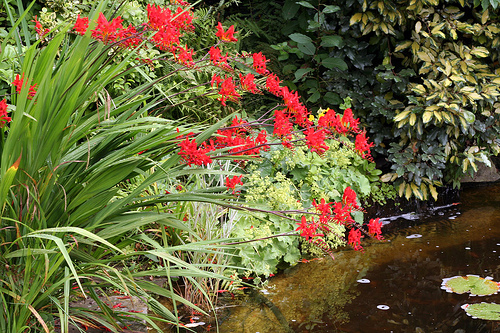 "Article photo by Crinklecrankle.com"
There are three types of gardener –
1. those who pay someone else to garden for them
2. those who like to main order with a minimum of maintenance
3. those for whom an outdoor space is a blank canvas…
If you're first on the list and have had no luck searching on the internet for suitable green-fingered help, you might try investigating these alternative routes:
Community Colleges/Garden Centres/Horticultural Societies and Gardening Clubs
For the second category or low maintenance gardener, remember these points:
1. Don't disrupt the flow of grass too much - a larger area of lawn is easier to mow than fiddly patches.
2. Ensure that you plant beds next to buildings, fencing or driveways, rather than flush to the lawn – this way, you'll ensure that you spend next summer resting your back in the deckchair rather than breaking your back weeding out grass seedlings!
3. Grow flowers in frost-resistant tubs – these will reduce the spread of weeds in summer and protect your plants in winter. When the frost bites too hard, you can easily bring less hardy plants inside.
If you're our third type and picture a blank canvas when you gaze outside your window – winter is the time to plan your designs, order new plants or start preparations for new landscaping.
Think of colour, especially for the next winter – when you'll want to look out of that same window and see a cheering profusion in the leaves and berries that adorn your garden. Plant Holly, for berries that make an attractive winter, feature or the Common Wild Rose, with pale pink blooms in mid to late summer and hips for winter colour. Azaleas and Oleanders (the latter, beautiful but poisonous!) will flourish well in the summer. How about the exotic sounding, native Red or Yellow Paintbrush - perfect for covering that canvas. Research your soil type and remember to position them with maximum access to sunshine. Beyond this, you can extend your seasons with a heated greenhouse and turn your hand to self-sufficiency by growing your own fruits and vegetables.
Introduce interest and wildlife to your garden, whatever its size, with a pond. Freshwater habitats are incredibly important to conservation. Take a leaf out of the Canadian Gardener's book – and grow a pond in a pot! Calgary is a committed, environmentally conscious city. It makes sense to incorporate that philosophy into your house and garden in terms of design and maintenance, note the points below and find inspiration and information here:
Compost where and when you can
Use native plants or ground cover wherever possible
Conserve and reuse our rainwater
Reduce or avoid entirely the use of pest and weed killers
Go green – use those green stockist and garden suppliers if you can
Employ mulching to insulate the soil and help prevent frost, use several inches of wood chips, leaves or compost. Grass cycling is an excellent way to boost the lawn's yearly nitrogen requirements and also cuts down trips to the dump to deposit your clippings as landfill waste.
Whatever your gardening status, exploit your niche and enjoy a year round investment that will enhance your property and appease both soul and conscience by reducing your environmental footprint at the same time!