Types Of Parking For Calgary Condo Buyers
Posted by Justin Havre on Thursday, August 8, 2019 at 2:19 PM
By Justin Havre / August 8, 2019
Comment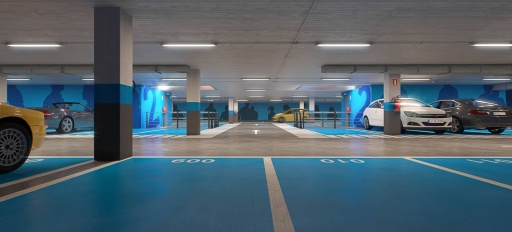 Did you know that there are a million registered vehicles on the streets of Calgary? That's a crazy number of cars, trucks, SUVs and mini-vans on the road, and of course, all one million of these vehicles need parking spots. We love to drive but hate looking for parking. If you're shopping for a condo and have one or more cars, adequate parking is just as important as the number of bathrooms. Here's what you might expect when considering a purchase in a multi-family development or condo tower:
In A Parking Lot Or Underground
Condo and townhome developments on the outer fringes of Calgary and suburban neighbourhoods most often have a parking lot, also called surface parking, which is not as secure as underground parking which is typically offered in inner-city developments where land is at a premium. Underground parking is often heated and very convenient, but there's a cost associated with it. To actually build an underground parkade under a condo building is almost triple the cost of providing surface parking and that cost is passed along to the buyer. That just one of the reasons why inner-city units cost more.
Titled Or Leased Spots
A titled parking spot means that a space is owned with separate paperwork from your unit. It can be bought and sold and extra spots, if required, can also be purchased. They are usually attached to a condo unit but there is separate paperwork. It's just like property. Just like any property, the price depends on location, with titled parking spots in Calgary's inner-city fetching as much as $45,000. If you don't require parking, you don't have to purchase a spot. Leased means you are renting your parking spot which is less common.
Many multi-family developments have assigned parking stalls which are administered by the condo or home owner's association. There's no cost associated with your assigned stall but there is also less control.
Parking for Visitors
Multi-family developers are required by the City of Calgary to provide visitor parking. In fact there is an equation that determines how many spots for visitors must be provided. Some try to allocate 10 to 15% of their parking spots for visitor parking. No matter how hard people try to ensure there is adequate provision, there never seems to be enough visitor parking where ever you go.
In Front Of Your Home
One of the benefits of purchasing a town home is the cost. If you're looking for a single-family home but have a limited budget, a townhome often provides you with your own front door, a bit of a backyard and sometimes a garage. If you have multiple vehicles, this type of condominium might work for you. New town homes in Calgary's suburbs can provide single or double garages, some with full driveways. Some developers even apply for by-law relaxation so they can provide additional parking because Calgarians love to drive and often, transit in outer communities is still developing. Again, additional parking such as this will add an additional $25,000 or so to your new home.
Rent a Parking Garage Space
When parking is at a premium, you can try renting a parking space on a monthly basis at a local parking garage. If you have two vehicles and only have space at your condo for one vehicle, the second vehicle can be parked off-site. While it will take some getting used to, The second vehicle that you don't use as often can be parked a little further away than the one that is used most of the time. When parking is tight, it's important to secure parking that you don't have to fight over every day. Even when there are a few spots up for grabs in front of your condo, it's always less stressful to invest in your own parking space.
Want To Save Money? Go For No Parking
Given its inner-city location in the East Village, the cost of land and the type of lifestyle buyers are looking for, Knightsbridge Homes made a bold, headline-making move when they announced that no parking would be provided with the N3 condo development. Between nearby transit, the availability of car-sharing services, nearby public parking, new city cycle tracks and the sheer proximity to downtown, the developer applied to have the by-law relaxed and they were successful. The cost-savings of nearly $60,000 per unit is being passed along to the buyer.