What Does Calgary's +15 Skywalk Offer?
Posted by Justin Havre on Friday, November 13, 2015 at 9:53 AM
By Justin Havre / November 13, 2015
Comment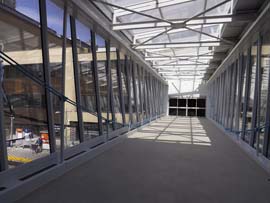 The Calgary +15 Skywalk links many of the Downtown buildings with a pedestrian walkway and can provide alternative routes for many different destinations to save time and traffic aggravation. It is a great way to walk for your health and shop at the same time. The original concept was for added protection for pedestrians during in climate weather situations, and for safety issues.
Montreal favoured the underground system as they began the process in 1962. However, the skywalk unit was more favourable because of the high-water table, the cost of excavation, and reproduction of the underground services already in existence. After much debate, during the late 1960s it was decided to be a great idea for Calgary to have the walk above the street levels.
Unfortunately, more development was needed to connect to the walkway system. More floor space/bonus density was offered in exchange for funding. Since the nearby buildings could not connect to the system, developers created the Plus 15 Fund, (managed by the city), so they could connect.
The walk is 15-feet (via the namesake) above the level of the street and is much safer than walking with the traffic patterns. Some of the skywalks are elevated higher and referred to as +30 and +45 Skywalks. After the walk opened in 1970, its expansion has included 59 enclosed bridges with connections to dozens of the buildings in Calgary. Also at the centre, are the city's flagship department stores and other enclosed shopping centres.
The +15 Skywalk is 11 miles or 18 km long covering 64 blocks. The walk was featured in many of the films by Gary Burns. One, in particular, was The Suburbanization where the system becomes a node where many lives intersected. Burns was an alumni of the University of Calgary's NUTV program. NUTV explores the media arts through creative and fun activities for a campus community. What better way to show-off the +15 skywalk than through film?
It comes down to the fact of opinion, and the benefits seem to trump any controversy that was present during the planning stages. Safety comes first, and the Calgary's +15 offers that and much more. Come by and check it out for yourself.