When the Doorbell Rings with a Potential Buyer and You Need to Clean the Bathroom Fast!
Posted by Justin Havre on Wednesday, June 25, 2014 at 11:55 AM
By Justin Havre / June 25, 2014
Comment
It can happen to anyone. The real estate agent calls and lets you know that a hot potential buyer is interested in seeing your house and they are only 5 minutes away. You tell your agent that it's fine to come over but you know that you have to give your bathroom a quick overhaul before your guests arrive.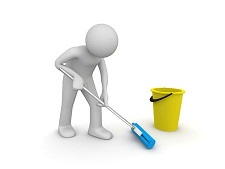 Here is a quick fix to getting your bathroom all cleaned up when you only have a few minutes to work with.
Start by dropping 2 Alka Seltzer tablets into the toilet to fizz away any dirt or stains. Club soda will also work. While your toilet is self-cleaning, grab any clutter that shouldn't be there and stash it in a basket inside the closet or in a drawer.
Use a microfiber cloth to get rid of cobwebs that may have developed in the corners of the ceilings and use this cloth to do some quick dusting. To reach the corner of the ceiling, simply put the cloth on the end of your broom handle.
Grab some glass cleaner and use circular motion to rub the mirrors clean. Rinse out the microfiber cloth you were using for dusting and wipe around the sink, the top of the toilet and around the bathtub area. Then, drop the cloth on the floor and using your foot, spot clean any areas that could use a quick wipe.
Flush the toilet and while the water is rushing through swish it quickly with a toilet brush. You won't have enough time to really properly handle the bathtub so simply rinse out the cloth that you used on the floor quickly and spot clean it as well.
While this is definitely not a thorough bathroom cleaning, by any stretch of the imagination, it's a quick fix that you can use when you need it the most. At the very least, it will make your bathroom cleaner and more presentable and at the best it may provide you with a quick sale from a surprise visit!