Where Are the Best Breakfast Restaurants in Calgary?
Posted by Justin Havre on Tuesday, April 16, 2019 at 3:32 PM
By Justin Havre / April 16, 2019
Comment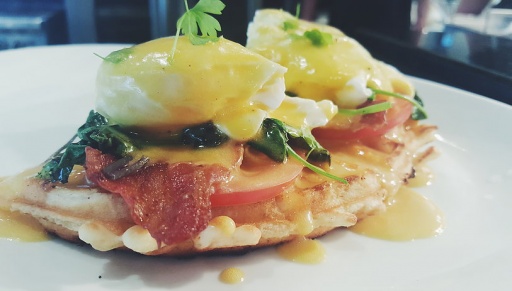 No matter the time of day, sometimes there is nothing more delicious than breakfast, be it breakfast for breakfast or breakfast for dinner. When the craving for breakfast food hits, look no further than these Calgary breakfast restaurants to get your fill of eggs, waffles, and more.
EggsOasis
Located on Mainstreet in Airdrie, Alberta is a fantastic eating establishment called EggsOasis. Operating hours are Monday through Sunday 6 am to 3 pm. Lunch specials are served Monday through Friday beginning at 11am.
Two perfectly poached eggs served on a fresh English muffin covered in hollandaise sauce is a favourite among diners at EggsOasis. Don't prefer poached eggs? No problem. There is something for every diner's preference at EggsOasis. Choose from traditional egg choices, omelettes, and waffles just to name a few of the freshly prepared breakfast dishes they offer.
EggsOasis offers a fresh fruit juice bar for patrons. How wonderful it is to order fresh raspberries, blueberries, and strawberries juiced into the perfect combination to begin your day or to take you through your afternoon at work. It is absolutely exhilarating.
Since opening the restaurant in Airdrie, EggsOasis has been chosen as the Silver and Bronze medallist winner for the Best Breakfast in the Reader's Choice awards for City View. They are dedicated to you, the customer so that you enjoy every bite of the dishes they prepare just for you.
OEB Breakfast Company
The OEB Breakfast Company is the breakfast experience that you're going to want to check out in Calgary. They are located at 824 Edmonton Trail North East and are open seven days a week from 7am-3pm. it started with Chef Mauro Martina's dream of creating the ultimate dining experience for breakfast lovers which was the beginning of OEB Breakfast Company.
Opened in 2009, Chef Mauro and his team have worked hard to ensure all ingredients are chosen carefully for the healthiest and most flavourful breakfasts for every guest. Here is a look at what you can expect when you visit the OEB Breakfast Company.
The chefs at OEB started to raise their own flock of chickens as of 2010 which started the free run, dark yolk, Omega 3 egg. They have two large barns dedicated to their constant use of eggs, which consists of about 3000 used per week. Breads are all-natural with no added preservatives handmade daily.
The meats are gluten-free and custom made from the collection by Paolini's Meats in Calgary. The meats are naturally raised without using hormones and non-natural products. The potatoes are cooked in Organic duck fat, an all-natural substance commonly used in traditional French cuisine.
If you want the healthiest, tastiest breakfast in town, stop by OEB Breakfast Company for a one-of-a-kind experience.
Brokin' Yolk
It's the hottest breakfast spot on Calgary's north side. The Brokin' Yolk on Symon's Valley Road NW equals any of the trendier coffee and breakfast shops downtown, catering to a largely suburban crowd in the community of Evanston.
Two brothers opened the restaurant recently, bringing 20 years of experience. Their philosophy is that their kitchen is your kitchen, and the Brokin' Yolk is simply an extension of your home, only their team does the cooking and the dishes afterward.
The menu is extensive with many dietary restrictions and preferences noted. There are gluten-free dishes, vegan options and everything is coded. That includes toast and English Muffins made in their own dedicated toast, for a $2 extra charge.
A few of the breakfast classics the brothers offer include:
Waffles
Eggs Benedict
Breakfast Poutine
And Other Breakfast Classics
Lunch, too!
The brothers of Brokin' Yolk believe in giving back to the community and their Calgary charity of choice is Kidsport. This local organization makes sure that kids in families without resources to pay for registration for sports can be taken care of. When you order still or sparkling water, which is identified on the menu as "Q-Water", $1 from every drink goes to Kidsport. Or you can provide a donation!
These are just a few of the great breakfast-themed restaurants in Calgary. Try one today to indulge in breakfast whenever you want.