Where Kids Can Play Lacrosse in Calgary
Posted by Justin Havre on Thursday, January 26, 2017 at 11:20 AM
By Justin Havre / January 26, 2017
Comment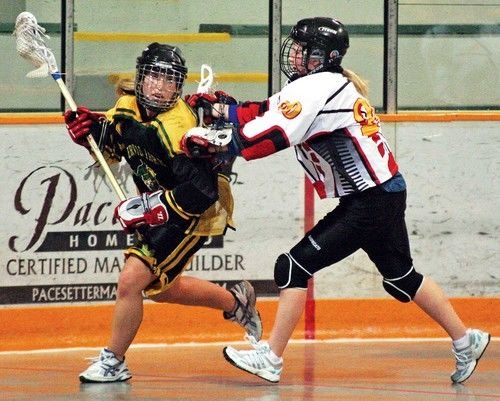 From mini-tykes to ladies' leagues, the sport of lacrosse is alive and well in Calgary. Lacrosse is a uniquely Canadian sport although it is growing in popularity in the U.S. with a strong college presence. There are five runners and a goalie on each team. Each runner has a stick with a basket at the end and play is advanced towards the goal as players pass a hard ball to each other. Play is only stopped when a penalty is incurred, the ball is thrown out of bounds, when possession changes or a goal is scored. When a team gets possession of the ball it has just 30 seconds in which to score a goal. The clock is reset after every shot on net while that team has possession.
There are two seasons of lacrosse actually. Box lacrosse typically starts the end of April and goes into the first few weeks of July and is played indoors. Field lacrosse picks up where box leaves off and is played during the summer with some elite teams playing into the early fall.
Lacrosse isn't for everyone. It requires good hand eye coordination to be able to pick the white ball out of the air with your stick. It requires speed and agility and an element of fearlessness as physical contact is part of the game. Hits to the head and illegal checking are not tolerated in the sport and draw immediate penalties. There is an element of aggression to the game that some players relish while others may prefer a sport that isn't quite so robust.
But this time of year, as minor hockey nears an end, registration for the box lacrosse season is under way. If you're new to the sport, have youngsters that admire the Calgary Roughnecks and want to give it a try or if you have just moved into a new home in Calgary and are wondering where and how to get involved, here's a run down on the lacrosse scene in Calgary.
Minor Lacrosse by Quadrant
Calgary is divided into four distinct quadrants and each district has its own association. They are:
Hornets Lacrosse
This association handles lacrosse in Calgary's North West area. The boundaries are 144 Ave NW on the north, 16 Ave NW and the Bow River on the south, Centre Street to the east and the City of Calgary boundary on the west. Hornets are a very competitive association known for their distinctive green and yellow jerseys.
Knights Lacrosse
This association looks after minor lacrosse in Calgary's North East Area. The boundaries are 144 Ave NE on the north side, Centre Street on the west, the Bow River or 50 Avenue SE on the south side and the City of Calgary limits on the east (approximately Range Road 281). The Knights have a reputation of being very physical and have a solid program in their district.
Sabrecats Lacrosse
This association is responsible for minor lacrosse in Calgary's South West quadrant. That is everything south of the Bow River and 16 Ave NW, West of Macleod Trail to Highway 22 including Springbank and north of the community of Silverado. Sabrecats have a very high calibre program with strict coaching guidelines and have wonderful entry-level programs for girls and boys to get acquainted with the sport.
Axemen
The Axemen is the name of the minor lacrosse association that handles everything in Calgary's South East quadrant. That's all Calgary neighbourhoods east of Macleod Trail, south of the Bow River and north of 210 Ave SE. The Axeman have a very large association and offer programs from mini-tyke up to Junior Tier 2.
Registration for each association is available online by visiting each of the association's websites. After registering your minor lacrosse player you'll be contacted to attend player evaluations. These evaluation sessions are designed to assess player' abilities so that they will be assigned to a competitive team. Typically, there are A, B and C teams with the exception of younger children which are not placed on tiered teams.
Once evaluations are complete, teams will meet their coaches and have a few practices before the season begins at the end of April. The box lacrosse season is very short. Typically, there are only 12 league games plus opportunities to attend tournaments at home and away.
The Calgary District Lacrosse Association (CDLA) has an excellent year-end tournament on the Canada Day weekend and teams come from all over Canada the U.S. to play.